NOTE: My eStores are actually storefronts on Amazon.com.
You can be assured they have the same secure transactions and prompt delivery that you would expect from Amazon.com
ALSO, You can order my books at independent bookstores using the ISBN numbers.
Novels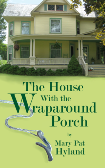 The House With the Wraparound Porch
(2013 CreateSpace)
ISBN-10:
1490975977
ISBN-13:
978-1490975979
Along an elm-canopied boulevard rising from a quaint Finger Lakes village stands a magnificent Queen Anne-style house. In the summer of 1920, when Mame McGrath and her family move in across the street, she notices a catatonic young man rocking on its wraparound porch. Mame, a newly hired elementary school teacher, proclaims boldly that she can, and will, restore this man's psyche—devastated by a drowning in Keuka Lake. What she doesn't anticipate is that he and this house will become the center of her life. The House With the Wraparound Porch weaves a riveting tale of the four generations to whom this home becomes more than a shelter from life's storms. It houses their memories of triumphs and failures, of joys and sorrows that ripple across nine decades. Though many will move on, this house will always be a part of them, because it resides always within the deep heart's core.
LIST PRICE $24.99
Purchase this book at the following locations
My eStore
Amazon
Barnes & Noble
Kobo
iTunes
Smashwords
---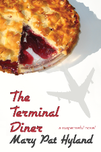 The Terminal Diner (2011 CreateSpace)
ISBN-10: 1463573545 ISBN-13: 978-1463573546

"Men like pie." Who would know the truth behind those words better than Elaina Brady's mother Maria? Months after she showed her teenage daughter how to bake perfect pie and hours after offering that culinary wisdom, Maria abandons Elaina, her sister Dee Dee and their father Walt. All it took was a lingering, lusty look from a Missoula trucker who stopped by their family's diner and ordered a slice of lemon meringue. Maria hitches a ride west with him, and with that impulsive decision, sixteen-year-old Elaina loses her mother and gains a job baking pies at the diner. A decade after Maria's departure, Elaina is still working at The Terminal Diner, just around the bend from an upstate New York airport. Her humdrum life is defined by pie-baking routine. Elaina realizes painfully that all she still knows about the opposite sex is summed up in the three last words her mother spoke to her. Then one deceivingly beautiful morning in September 2001, horrifying acts committed by terrorists a hundred miles away upset her world, bringing new influences into her life and inspiring her to be like her mother—impulsive. Will Elaina survive the consequences of her actions?

LIST PRICE $14.99

---
Purchase this books at the following locations:

An Amazon.com Top 100 Bestseller! 3/17 (2010, Create Space Publishing)
ISBN-10: 1453838848 ISBN-13: 9781453838846
In this loose parody of Dante's Inferno, four Irish traditional musicians get lost in the backwoods of upstate New York the week before St. Patrick's Day. On the journey, the band descends through nine hellish circles of American-style 3/17 revelry: Step-dancing princesses. Bobbing shamrock headbangers. Green beer bacchanals. Shillelagh-wavin' geezers.
(WARNING: Abandon hope, all ye corned beef-allergic who enter here.)

LIST PRICE: $16.99
---
Purchase this book at the following locations:
The Maeve Kenny Series

The Cyber Miracles (2008, Create Space Publishing)
ISBN-10: 1434840980 ISBN-13: 978-1434840981
Book I The Maeve Kenny Series

Maeve Kenny's life was going exactly as she'd planned. At 30 she was dating a soap opera star and had an exciting public relations career with an Irish-owned firm in Manhattan. Then three sudden events turned everything upside down, and Maeve found herself fleeing her Queens apartment for sanctuary back home upstate in Binghamton. As she tries to readjust to the dramatic changes in her life, Maeve says she needs a miracle to turn her life around. Who would have thought the whole world would be watching when it happens?

LIST PRICE: $17.99
---

Purchase this book at the following locations: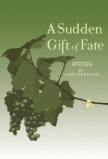 A Sudden Gift of Fate (2009 Create Space Publishing)
ISBN-10: 1449509711 ISBN-13: 978-1449509712
Book II The Maeve Kenny Series
Irish couple Fergal and Brídgeen Griffin get an intriguing wedding gift: the chance to manage a Finger Lakes winery. When they move to Keuka Lake from Queens, see the rundown winery and meet its surly winemaker, they realize it will be quite a challenge getting from grapevine to bottle.
Meanwhile their friends Maeve and Andy face a challenge of their own, separation as he pursues experimental therapy for his paraplegia.
As the two couples face the challenges ahead, will they be able to keep hope alive?
LIST PRICE: $17.99
---

Purchase this book at the following locations: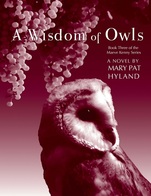 A Wisdom of Owls (2011 Create Space Publishing)
ISBN-10: 1468044494 ISBN-13: 978-1468044
Book III The Maeve Kenny Series

Young Irish couple Fergal and Brídgeen Griffin didn't think that their cousin Colm O'Brien's wedding gift-managing a winery in New York's Finger Lakes for him-was charity. When the demise of the Celtic Tiger-Ireland's economic generator-threatens Colm's funding of Loughmare Winery, the Griffins realize suddenly how dependent their future is on his generosity. Colm sets a deadline for them to increase the winery's profit; it collides with the June wedding date of the Griffins' best friends, Maeve Kenny and Andy Krall. Unaware of the coming conflict, Maeve and Andy give the Griffins a barn owl box with a webcam to celebrate Loughmare's current successes. As they and the world tune in to watch an owl couple raise its brood, all realize there is much to be learned from a wisdom of owls.

LIST PRICE $17.99

---

Purchase this book at the following locations: